In April, artists Zach Blas and Jemima Wyman will be in residence at the IMA. Wyman is an interdisciplinary artist diving her time between Brisbane and Los Angeles, and Blas is an artist, writer, and a lecturer in the Department of Visual Cultures at Goldsmiths, University of London. Together, they are making new work for our forthcoming exhibition, Material Politics.
To kick off their time in Brisbane, Blas and Wyman are hosting our second First Thursday event on 6 April.
RSVP on Eventbrite here.
The IMA has access to three purpose-built residency studios in the Judith Wright Centre which we utilise for artists, curators, and writers coming for longer stays. Recent residents include Sarah Browne, Luke Willis Thompson, Linda Persson, and Patricia Reed.
Upcoming Events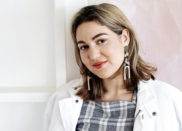 Category:
20 October 2018
Join Brisbane-based contemporary jeweller Bianca Mavrick for a hands-on workshop, bringing together recycled materials to...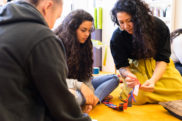 Category:
27 October 2018
Join us for a free community celebration to showcase the work made by young people...