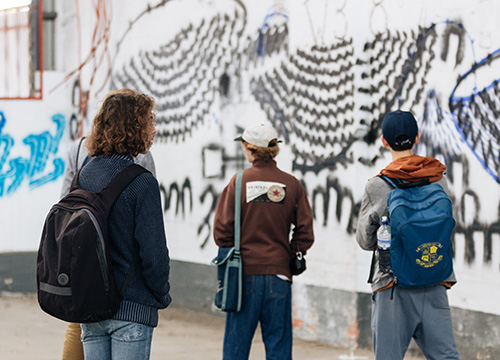 Next generation of critics to be published in Art Enquirer
In July the IMA and Flying Arts Alliance presented Art Enquirer, a three-day art immersion program for senior high school students. From 11-13 July, eight students explored local art galleries and artist studios and took part in a workshop to develop their critical writing skills.
Participants were led on a cultural tour of a number of commercial, university, and independent galleries in Brisbane. A visit to Yeronga artist studios, with a tour led by Milani Gallery's Amy-Clare McCarthy, provided a unique opportunity to hear directly from artists Ross Manning, Richard Bell, and Gordon Hookey about their practices.
With the help of IMA staff and special guests including Léuli Eshrāghi, Freja Carmichael, and Tim Walsh, the students honed their art writing skills and began to develop a written response to their gallery and studio visits. One student remarked that the program "offered clarity and a real experience in the industry, something that is really not offered at our age."
The essays produced from this program will be published both online and in a print Art Enquirer publication produced by the IMA in late 2018.
Art Enquirer is proudly supported by Brisbane Airport Corporation and travel subsidies were made available thanks to Brian Tucker Accounting. Photo: Savannah van der Niet