You cannot add "A Preponderance of Aboriginal Blood" to the cart because the product is out of stock.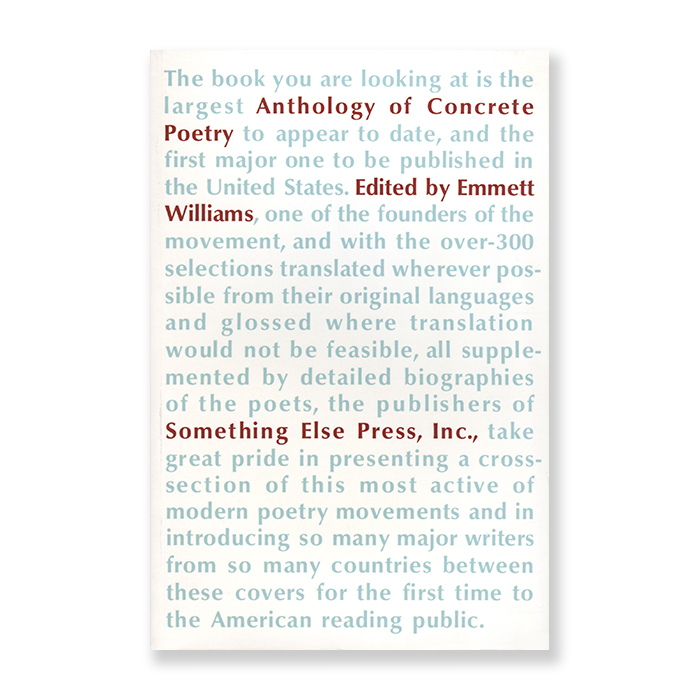 An Anthology of Concrete Poetry
2014
First published by the legendary Something Else Press in 1967, An Anthology of Concrete Poetry was the first American anthology on the international movement of Concrete poetry. The movement itself began in the early 1950s, in Germany–through Eugen Gomringer, who borrowed the term "concrete" from the art of his mentor, Max Bill–and in Brazil, through the Noigandres group, which included the de Campos brothers and Decio Pignatari. Over the course of the 1960s it exploded across Europe, America and Japan, as other protagonists of the movement emerged, such as Dieter Roth, Öyvind Fahlström, Ernst Jandl, bpNichol, Mary Ellen Solt, Jackson Mac Low, Ian Hamilton Finlay, Bob Cobbing, Dom Sylvester Houédard, Pierre Garnier, Henri Chopin, Brion Gysin and Kitasono Katue. By the late 1960s, poet Jonathan Williams could proclaim: "If there is such a thing as a worldwide movement in the art of poetry, Concrete is it."
Please note: the book is slightly worn and has been discounted accordingly.