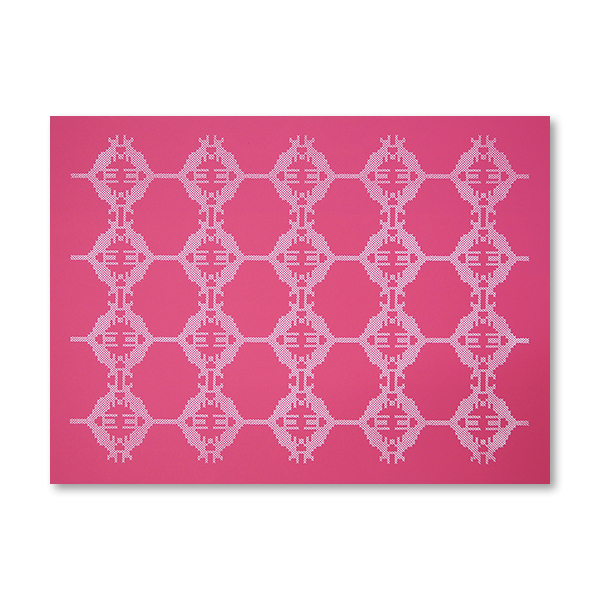 Dale Harding
Untitled (I)
2016
These works extend on Harding's 2012 series of cotton embroideries shown in the artist's first solo exhibition, Colour By Number (MetroArts, 2012), based on kitcsh Australiana cross-stiches he found on the streets of Brisbane. In Untitled (I) and Untitled (II), Harding repatriates the kangaroo – a totemic Australian animal linked to national identity – yet transforms this distinctive symbol into an abstract, repetitive pattern that recalls traditional lacework or quilting designs. These domestic qualities are altered by the etching process, which translates tactile thread into a flat surface. The colour pink is used for its connotations as a signifier of homosexual identity.
Harding is a descendent of the Bidjara, Ghungalu, and Garingbal peoples of Central Queensland, and has gained recognition for works that explore the untold histories of his communities. Recently he has been investigating the social and political realities experienced by members of his family who lived under government control in Queensland. Harding inaugurated the IMA's ongoing project platform The Green Room with his exhibition, White Collared, in 2015.
Created and printed at Cicada Press, UNSW.
| | |
| --- | --- |
| Edition | 15 |
| Dimensions | 42cm W 31cm H, Paper size: 60cm W 44cm H |
| Materials | Zinc plate etching, Etching on Velin Arches 300gsm paper |