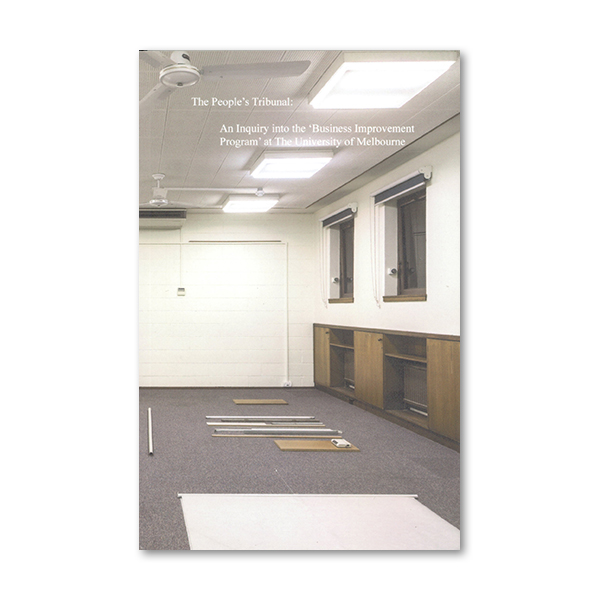 The People's Tribunal: An inquiry into the 'business improvement program' at the University of Melbourne
2015
On April 11 2015 in the Brunswick Uniting Church in Melbourne, a Peoples Tribunal was held to investigate the 'Business Improvement Program' at the University of Melbourne. The Tribunal itself – composed of scholars, students, and senior members of the Aboriginal community, and assisted as counsel by a group of final year students from the Melbourne Law school – heard evidence from a range of expert witnesses about the development, implementation, and consequences of the Business Improvement Program. This volume collects material generated from those proceedings in order to keep alive an understanding of what happened at the University of Melbourne during 2013 and 2014, and to stimulate further analysis of what this process signifies for the future of work and of education.
Edited by Marion Campbell and Philip Morrissey. Contributors: Philip Morrissey, Marion Campbell, Ruth Campbell, Leo Sweard, Giles Fielke, Raewyn Connell, Hans A. Baer, A.J. Bartlett, Justin Clemens, Lauren Bliss, Kevin Murray, Gill H. Boehringer, and Aunty Janet Turpie-Johnstone. Published by Aboriginal Humaities Project.
Softcover. ISBN: 978-0-9945388-0-2.
| | |
| --- | --- |
| Weight | 115 g |
| Dimensions | 11.5 × 1 × 18 cm |