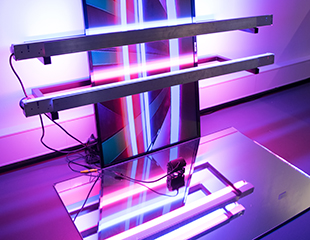 Ross Manning tours to regional Queensland
Dissonant Rhythms is Brisbane-based artist and musician Ross Manning's first-ever survey exhibition. Spanning the past decade of his practice, Dissonant Rhythms was originally presented at the Institute of Modern Art in 2017 and has now embarked on a national tour.
Best known for his use of everyday materials, Manning's exhibition features sculptures that repurpose electric fans, fluorescent tubes, and overhead projectors. Propelled by electricity and their own kinetic forces, Manning's work engulfs the entirety of the spaces they exist in, creating mesmerising experiences of light and sound. Dissonant Rhythms is curated by Aileen Burns, Johan Lundh, and Madeleine King.
Tour itinerary:
Caboolture Regional Gallery, QLD: 2 February–24 March 2018
Tableland Regional Gallery, Atherton, QLD: 13 September–28 October 2018
Pinnacles Gallery, Townsville, QLD: 30 November 2018–27 January 2019
Caloundra Regional Gallery, QLD: 6 February–31 March 2019
Mornington Peninsula Regional Gallery, VIC: 10 May–7 July 2019
Latrobe Regional Gallery, VIC: 3 August–25 October 2019
Bank Art Museum Moree, NSW: 8 February–31 March 2020
Lismore Regional Gallery, NSW: 5 June–16 August 2020
Western Plains Cultural Centre, NSW: 29 August–22 November, 2020


Dissonant Rhythms is a travelling exhibition organised by Institute of Modern Art (IMA), toured by Museums & Galleries Queensland. This project has been assisted by the Australian Government through the Australia Council, its arts funding and advisory body, and supported by the Visual Arts and Craft Strategy, an initiative of the Australian Federal, State, and Territory Governments. Queensland venues are further supported by the Queensland Government through Arts Queensland. The IMA is a member of Contemporary Art Organisations Australia (CAOA). Ross Manning is represented by Milani Gallery, Brisbane.
Image: Ross Manning, Bricks and Blocks (detail), 2016, LCD TV, video camera, fluorescent lights, and mirror. Image courtesy Milani Gallery, Brisbane.